October 17, 2022
DAI is delighted to announce the launch of a new professional community that will bring together current and former DAI staff from around the world. The DAI Alumni Network will provide spaces—both in person and online—for connection, collaboration, and continued engagement with the company's mission: shaping a more livable world.
Since DAI's founding more than 50 years ago, staff members have often reflected on how much their relationships with DAI's people come to define their time at the company and leave a meaningful impact on their careers and their lives. The Alumni Network aims to celebrate and capitalize on the knowledge, experiences, and social connections that employees develop during their tenure at DAI.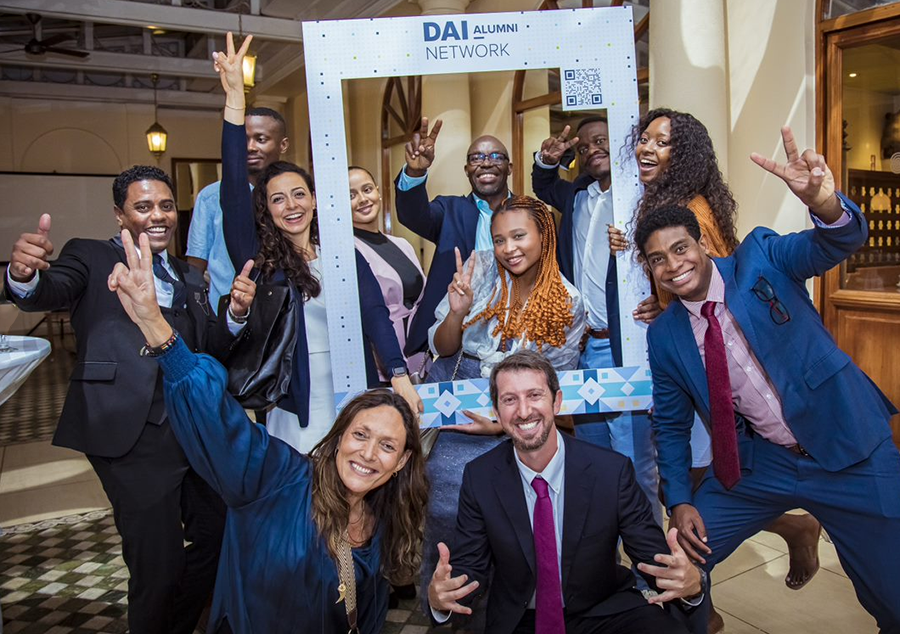 DAI colleagues reunite at a recent Alumni Network event in Mozambique. Photo: DAI.
"The idea of the Network is simple," says DAI CEO Jim Boomgard. "Too often, the bonds that connect us for the duration of a project or an assignment—the bonds that allow us to achieve great things—can fade away as projects turn over and people move on to other jobs or pursue other interests. We want to bring DAI alumni and employees back together in a network that will foster relationships and collaboration."
The Alumni Network centers around an online portal, exclusively accessible to former and current DAI staff. Members can create profiles in the platform's directory to connect with alumni from more than 80 countries. The platform offers features to help users explore career and partnership opportunities, participate in social and learning events, and engage with new thinking and solutions from DAI.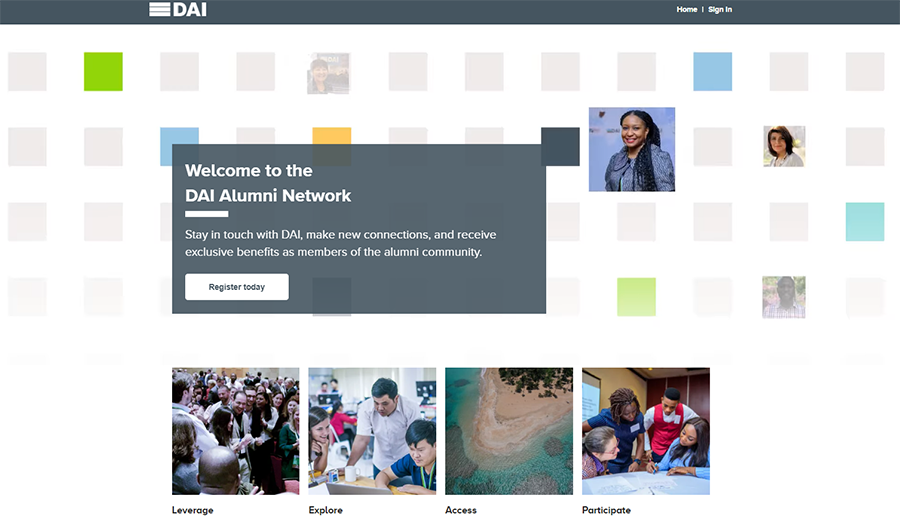 The Alumni Network's online platform is a membership hub open to all current and former employees.
The DAI Alumni Network will also provide a forum to elevate local voices, allowing each member the opportunity to be seen and heard. Alumni from all countries, backgrounds, and experience levels can celebrate their accomplishments, share their stories, and build their social and professional networks, locally and internationally. 
"DAI has always had a vibrant alumni community," says Alexandra Begle, Director of the DAI Alumni Network. "We felt that 2022 was the right time to formalize and expand that community into the Alumni Network. After several years of remote work and reduced travel due to the pandemic, our staff is eager for reconnection with former colleagues across the world."  
In this spirit, the Alumni Network has already hosted "Reconnect Events" with DAI alumni and staff in Ethiopia, Jordan, Mozambique, Nigeria, and Palestine.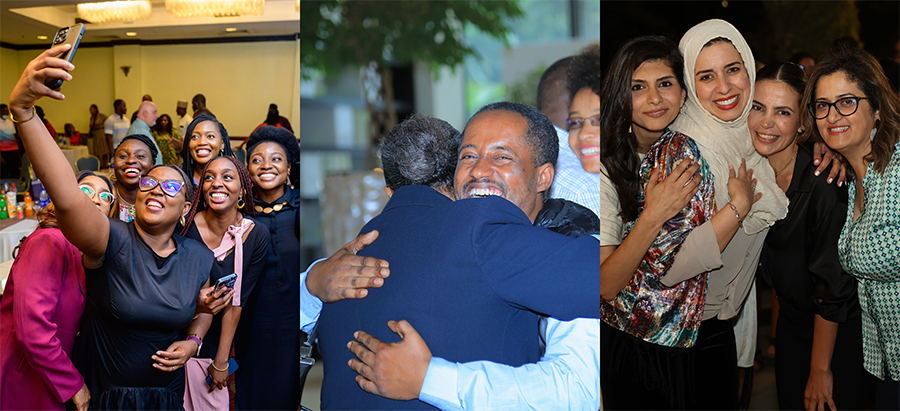 Reconnect Events in Nigeria, Ethiopia, and Jordan. Photo: DAI.
The Alumni Network is open to all former and current DAI corporate and project staff, including those who worked for DAI-predecessor firms such as HTSPE, the HPI Group, GRID Consulting, Human Dynamics, Magister, and MicroVest. Alumni at all career levels—from those just starting out to those who have retired—are encouraged to register here.