DAI Hosts Third Mandela Washington Fellow
August 08, 2018
DAI is delighted to welcome Soilihi Massoundi as part of the Mandela Washington Fellowship for Young African Leaders. Soilihi will work through September with DAI's Youth and Workforce Development global practice on knowledge management and business development initiatives.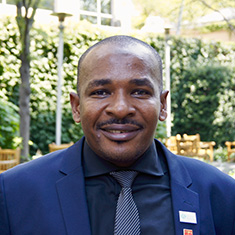 The Mandela Washington Fellowship is part of the Young Africa Leadership Initiative established by former President Obama to support Africa's young leaders in promoting good governance, spurring entrepreneurship, and engaging civil society. Soilihi—who is from the East African island country of Comoros—works as a youth program manager at the Comorian Association for Family Well-being. He is interested in the links between public health systems, the marine environment, and sustainable livelihoods such as fishing and tourism.
In 2011, Soilihi founded the Youth Association of Bangoi Kouni for the Sustainable Development of the Marine Environment. He has also led trainings on human rights and HIV and is a member of the Francophone youth movement "Libre Ensemble."
"My personal goals are to enhance my leadership skills, make some connections, and learn about management from DAI," says Soilihi. As an up-and-coming leader, Soilihi believes "it is our role to help people surpass the issues that hold them back."
Soilihi is the third Mandela Fellow hosted by DAI. There are 100 Fellows spending six weeks in Washington, D.C., and around the United States, as part of the program's professional development experience.
x
RELATED CONTENT:
A DAI Chief of Party from a project in Georgia is volunteering his time to help women entrepreneurs in Ukraine. Mark McCord, who leads the USAID Economic Security Program in Georgia has partnered with representatives of a Silicon Valley accelerator called United Market Access Center and with StartupGrind Georgia to launch the Safe Haven initiative—in coordination with a DAI-led sister project in Ukraine, the Economic Resilience Activity.
Read More