April 17, 2015
Economic development programs that seek to help people lift themselves out of poverty are increasingly adopting systemic market development approaches. On April 28–29 in London, DAI will convene 80 top practitioners to explore this trend at a workshop titled "Pushing the Frontier: DAI's Experience in Systemic Market Development for Inclusive Economic Growth."
"DAI is implementing more than 30 economic growth projects for different donors. While these projects operate in diverse countries under a variety of conditions, they share the ultimate goal of increasing sustainable and inclusive economic growth," said Bill Grant, DAI's Global Practice Leader for Systemic Market Development. "This workshop will be a great investment by our key staff, partners, and guests to capture more of what we have learned about market systems, strengthen links between our teams, and generate learning pieces for public use."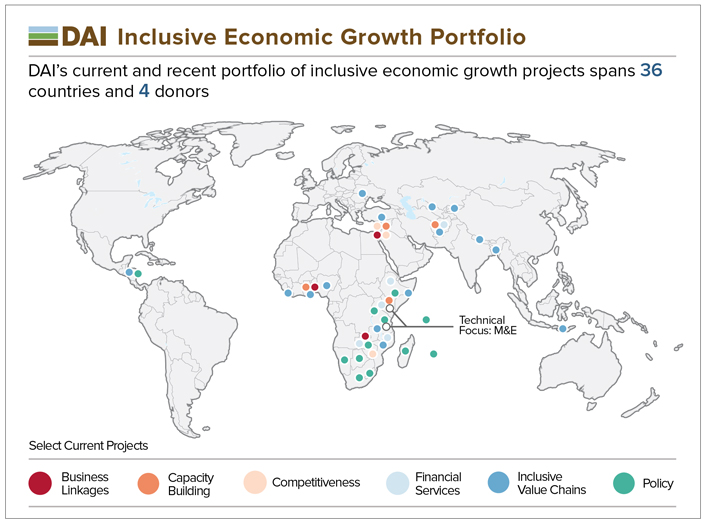 Select practitioners from consortium partners, the private sector, and international donor agencies such as the U.K. Department for International Development (DFID) are scheduled to attend. DAI's participants will include:
The event will feature a headline panel of Patricia Seex, DFID Private Sector Development Advisor; Alex Duncan of The Policy Practice; a Director from the Springfield Centre; and Bill Grant from DAI. Other plenary and panel sessions will focus on issues such as reaching the smallest farmers, monitoring and evaluating systemic development, implementing systemic approaches to business linkages, and including women and girls.
The workshop stems in part from a September 2013 memorandum of understanding between USAID, DFID, and the Swiss Agency for Development and Cooperation (SDC) which outlined their commitment to promote market systems programming, focusing on the Making Markets Work for the Poor (M4P) and Value Chain Development (VCD) approaches. These approaches are widely employed to identify problems and opportunities in market systems, provide frameworks for analysis, and guide action.
Participants at "Pushing the Frontier" will bring their diverse experiences to the task of refining M4P and VCD programming while building the foundations for a common vision of systemic market development. "DAI currently leads market development projects for U.S., U.K., Swiss, European donors and private sector clients," Grant said. "These initiatives are working in a wide range of environments—including very poor countries with weak market systems, more advanced countries with stronger market systems, and conflict-affected countries—and across a wide range of sectors."
Participants will also explore crosscutting issues such as finance, trade, policy, value chains, business services, challenges to including women and girls, and workforce development, as well as optimal ways to apply grants and activity financing in ways that do not distort local markets.
The event will be held at the Hilton Metropole. Follow DAI's Twitter and Facebook feeds for updates.