November 15, 2018
DAI Board Member Marwan Juma will be leaving DAI's Board next month at the end of his term and was bid a fond farewell at the November Board meeting.
"Marwan embodies so many of the qualities we aspire to at DAI," said President and CEO Jim Boomgard. "He is entrepreneurial, forward-thinking, results-focused, and—above all—he cares deeply about making a difference in the world. We are grateful for his many contributions to the firm and we look forward to benefitting from his insights on a less formal basis in the years ahead."
During Marwan's term, DAI achieved significant growth and diversification, including expanding in the United Kingdom and Nigeria, investing in global health and other sectors, launching initiatives such as a coding school, and broadening DAI's employee ownership.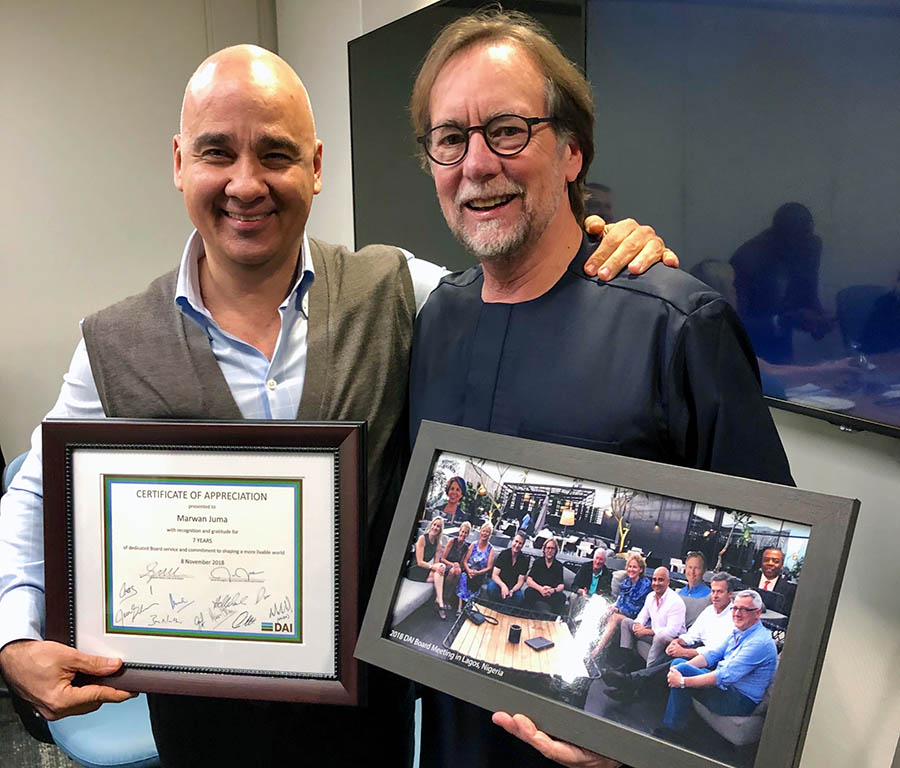 President and CEO Jim Boomgard, right, celebrates the tenure of Board Member Marwan Juma, left.
Speaking at the November Board meeting, Marwan said of DAI: "Meeting [contractor performance assessment report] and donor scores is very important but, at the risk of uttering a cliché, this isn't why we come to work: it is indeed about making lives better."
"Don't lose sight of the big picture, of the vision and mission of those who founded DAI," he urged DAI staff. "If we constantly adhere to what got us here, we will be OK. Thank you for the wonderful opportunity, from the bottom of my heart!"
Marwan served as the Jordanian Minister of Information and Communications Technology from 2009 to 2011 and as CEO of Xpress Telecommunications, one of Jordan's leading mobile operators, from 2006 to 2009. He is also the founder and Chairman of Sama for Integrated Systems, better known as dot.jo, one of Jordan's leading web development houses, and Kinz for Information Technology, the country's leading corporate data provider.
In addition, Marwan is the founder and Chairman of Oasis 500, the region's leading IT fund and accelerator. He chaired the local chapter of the Young Arab Leaders Organization, the region's leading nongovernmental organization focused on youth.
"Marwan brought a unique perspective to the DAI Board because he knows firsthand the challenges and immense promise of working in emerging markets," said Board Chair Betsey Nelson. "It has been an honor and a pleasure to work with him, and we know he will remain a friend of DAI's and a ceaseless advocate for investment in Jordan and the MENA region."
Marwan will continue to advise DAI informally, especially on our work in Jordan and the Middle East.