June 21, 2023
Nearly 2,000 staff and family members relocated or notified for relocation
DAI is honored to receive a Global Impact Award for the company's work to support Special Immigrant Visa (SIV) and other relocation efforts for DAI employees in Afghanistan. Conferred by the International Stability Operations Association (ISOA), the "Afghan SIV and Refugee Resettlement Operations" award represents relentless efforts by DAI staff to help relocate Afghan colleagues and their families.
"We are grateful to ISOA for the opportunity to celebrate the 1,200 people who have already relocated and the dedicated DAI staff who made that possible," said Senior Vice President Tine Knott, who accepted the award on behalf of DAI. "While we are proud of this number and the lives it represents, we remain acutely aware that it is but a drop in the ocean. We must make sure that as time goes on, the Afghan people are neither forgotten nor forsaken."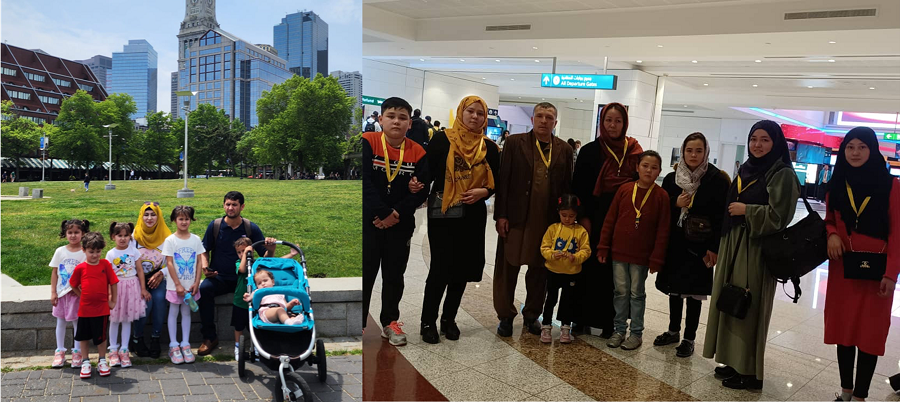 DAI Afghan staff and their families after arrival in Massachusetts (left) and in transit through Qatar (right).
DAI has worked in Afghanistan since 1976, carrying out more than 40 projects across all 34 Afghan providences. In August 2021, when the Taliban took control of Kabul, DAI had six ongoing U.S. Government-funded projects. While 22 expatriate employees were able to evacuate under duress, many Afghan colleagues, and their families, remained behind.
DAI staff were committed to helping their colleagues; a month before the U.S troops withdrew, Knott declared that supporting relocation and SIV requests would be "our highest priority as a business unit." This commitment applied not only to the 550 Afghan staff working on DAI projects at the time but to all current and former Afghan DAI employees who qualified for the SIV or Employer Priority-2 Designation (P-2) Referrals and their families—thousands of people.
The process of qualifying for these programs requires Afghans to demonstrate that they have been employed in good standing on behalf of the U.S. Government—by tracking down employment verification, letters of recommendation, and other paperwork. This time-consuming task was especially challenging during a time of unprecedented stress and uncertainty.
Prior to the U.S. withdrawal, DAI had already seen requests for SIV application support quintuple. As the Taliban pushed into Kabul, more than 50 volunteers from across the company joined ongoing efforts to help process SIV documentation requests. Two weeks later, DAI had established a full-time Emergency Response Team of 16 staff members with the sole focus of expediting SIV documentation support. Requests for assistance from Afghan colleagues continued to increase, especially when the Department of State's Coordinator of Afghan Relocation Efforts (CARE) began organizing relocation flights. What started as an Emergency Response Team evolved into a permanent unit with dedicated teams supporting DAI's ongoing projects in Afghanistan, vetting and providing documentation for SIV and P-2 cases, guiding Afghan colleagues through the many steps of the SIV, and supporting staff during the relocation process.
Two challenging years later, DAI remains true to its commitment, and measures its results in concrete terms: since August 2021, the company has helped change the lives 297 former staff and their families—1,208 people in all—who now call the United States, Canada, and Europe home. Another 170 staff members and their families—a total of more than 700 people—will relocate through the Department of State's CARE in the coming months.
"We were able to move this mountain because our staff are driven to help their Afghan colleagues and are supported by the CEO and leadership's commitment to DAI's values," said Knott.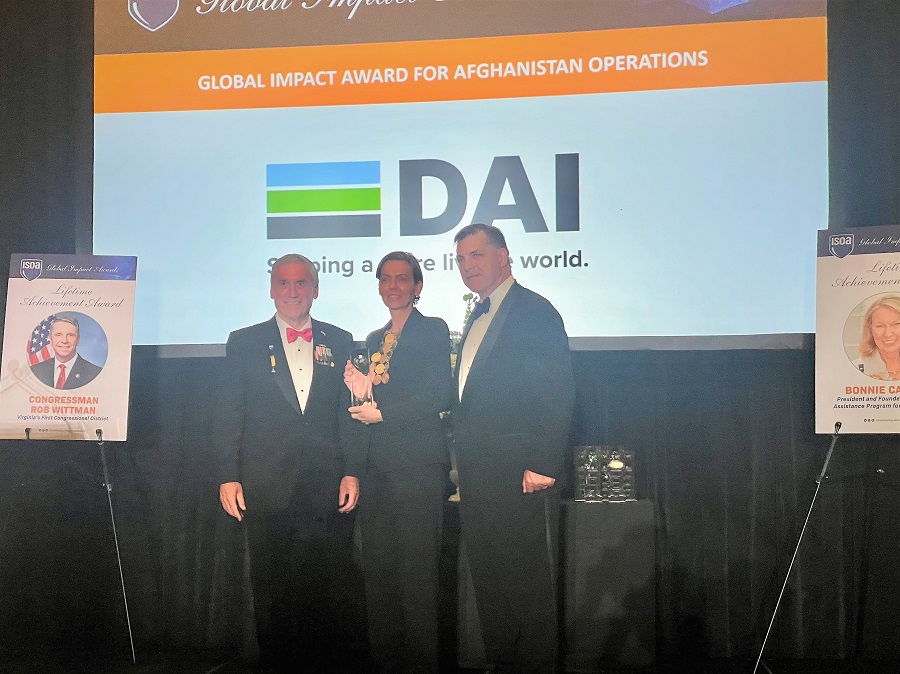 Tine Knott accepts the ISOA award on behalf of DAI.
The ISOA award not only recognizes DAI's assistance to former staff on SIV and P-2 applications, but also its support during the complex, often frustrating relocation process. DAI teams ensure that applicants have all required documentation for their cases to be processed, researches means for their evacuation, and guides them through the many steps along the way. For example, DAI authored a 46-page guide to resettling in the United States—in English, Dari, and Pashto—that former employees receive on arrival at the CARE processing center in Doha, Qatar. #AfghanEvac, an invaluable partner, has adopted and shared this guide on its website.
"We are fiercely committed to this work because we know what is at stake," said an Afghan member of the Relocation Team, who himself was employed on a DAI project before being evacuated.
DAI remains engaged in Afghanistan, where it continues to implement several programs for the U.S. Agency for International Development.