July 24, 2017
On June 28, Zambia signed $93.5 million worth of contracts with buyers from East and Southern Africa to export grains to countries suffering from a drought affecting more than 40 million people. The contracts—to sell 337,300 metric tons of white maize, soybeans, and other grains—are projected to provide food for 1.78 million families for six months. For Zambia, which is expecting to have a staple food surplus of 1.2 million tons this year, the cross-border trade represents a significant contribution to the food security of East Africa and a powerful story of African sustainability.
The trade contracts were signed in Lusaka at an African regional trade forum facilitated by the Zambian Commodity Exchange and Eastern Africa Grain Council with assistance from the U.S. Agency for International Development (USAID)'s Southern Africa and East Africa Trade and Investment Hubs. The forum convened 230 sellers and buyers from Burundi, Malawi, South Africa, Kenya, Uganda, Rwanda, Zambia, and Zimbabwe.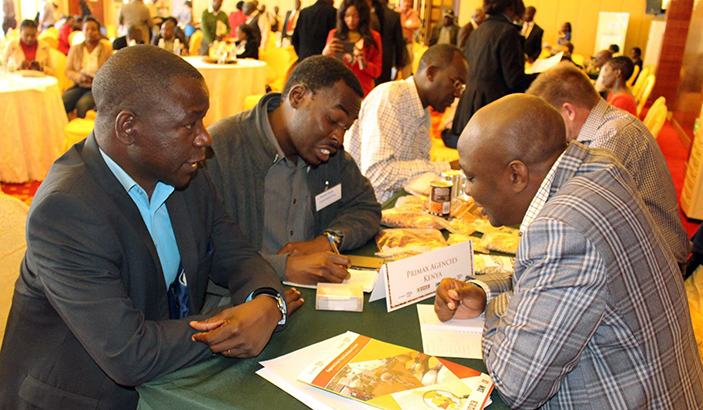 Grain traders and agriculture officials convening in Lusaka, Zambia, on June 28.
This event is the year's second forum supported by USAID and implementer DAI to facilitate the trade of food grains from countries of surplus to those in deficit. In March, the USAID East Africa Trade and Investment Hub (the Hub) convened the first Trade Facilitation Forum in Addis Ababa, Ethiopia, which produced $93.1 million in contracts that are now supplying grains grown by Ethiopian farmers to buyers in six countries, most notably Kenya.
This latest example of regional cooperation presents an encouraging sign of improving African sustainability and independence. Increased grain trade will stabilize grain supply and prices in the region, improve food security, and reduce malnutrition. It would also allow the region to be less dependent upon emergency food assistance.
"The surplus created an important opportunity, not only for the transactions now in development, but also to leverage trade to address the barriers to trade. This interplay of business and policy is a fundamental reason the hubs exist."—DAI's Vanessa Adams, Chief of Party, Southern Africa Trade and Investment Hub (USAID TradeHub).
The June event was spurred by Zambia's pending surplus maize crop and modeled after the East Africa trade forum in March. The USAID Southern Africa Trade and Investment Hub (USAID TradeHub) had been working with the Zambian Commodity Exchange to improve structured trading and market opportunities for crops produced by smallholder farmers. The USAID TradeHub team had also been working with the Zambian government toward ensuring the appropriate export permits, documents, and quality and safety standards. This coincided with the recent lifting of an export ban and 10-percent tax by the Zambian government, which further facilitated the transactions.
"Suspending the export duties creates an incentive to traders to export to Kenya, as does making the export process smoother—the implementation of express clearance at the borders, particularly, is important. We are competitive now," said Alok Dikshit of Zambia's Export Traders Group.
Elico Spyron of Agrilink, representing the Zambian National Farmers Union and more than 1 million farmers, from commercial outfits to subsistence smallholders, praised the one-to-one contact between buyers and sellers and the advance discussions between countries on standards and logistics. "This year it is especially important because we are looking to expand our markets," Spyron added.
Making Food Trade the Norm, Not the Exception
Zambia and other African countries face challenges—notably storage, interregional transport, and related costs—to instituting sustainable, beneficial food trade that grows economies and increases food security, noted John Mundy of the World Food Program, who represented WFP at the event. WFP procures hundreds of thousands of metric tons of grain annually, which is delivered as food aid to millions of people.
"If you don't have the ability to keep or sell your grain, that can be a problem, so this event highlighted the need for regional trade and local initiatives," Mundy said. "There are concerns of logistics, [but] with the private sector and government in the room, it was a good forum to talk about that."
Tapping the East African hub for assistance in replicating the successful March event in Addis Ababa, the USAID TradeHub sought to partner with the Nairobi-based Eastern Africa Grain Council, whose Executive Director Gerald Masila foresees a change in trade relations between Zambia and East Africa.
"We are glad that [Zambia Minister of Finance Felix Mutati] confirmed that the export bans are a thing of the past and that Zambia has changed orientation," Masila said, as reported in the Zambia Daily Mail. "[Now Zambia] will be looking at the agriculture [sector] and agricultural produce as an export opportunity."