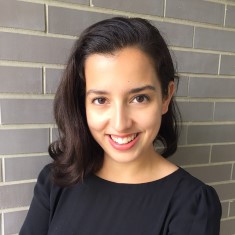 Yasmine Williams is the enterprise development and communications specialist for the Shell LiveWIRE global consultancy, DAI's project supporting Shell's flagship enterprise development program. She manages social media for the Shell LiveWIRE team and provides communications guidance to Shell LiveWIRE country program managers around the globe.
Yasmine previously served as a communications specialist for DAI's Center for Development Innovation (CDI) project, where she led communications and web design for the DAI CDI team. She used comprehensive analytics to counsel clients on web content and strategy, served as graphic design manager for the team, and drafted communications strategies around USAID open calls and funding opportunities.
Before joining DAI, Yasmine was a communications specialist at the World Resources Institute (WRI) and played a key role in launching its Gender Initiative. She also worked a research assistant for a small defense contractor, assessing the feasibility of business opportunities in the aerospace and defense sectors.
M.A. international affairs, American University
B.A. political science (honors) and history, University of Tennessee
x
RELATED CONTENT:
Jeanne Ellis is a Director for DAI's Sustainable Business Group, where she manages a portfolio of projects in social impact management, local content development, and corporate social investment.
Read More