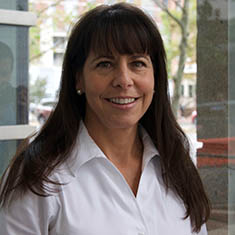 Susan Scribner is DAI's Vice President for Health Systems Solutions, with responsibility for health systems strengthening and global health security. She is a champion for building resilient health systems that can prevent, detect and rapidly respond to disease threats, and leveraging health security interventions to strengthen core health system functions.
Susan directs the global Preparedness and Response project (P&R), which works in 16 countries in West Africa, East Africa, and Southeast Asia. P&R catalyzes and institutionalizes multisectoral collaboration across government ministries and with the private sector. P&R drives One Health collaboration to support interconnected improvements in public health, animal health, and environmental health by developing, testing, and documenting innovative tools and approaches that support multisectoral health security goals.
Susan also oversees Jalin, USAID Indonesia's flagship project for maternal and newborn health. Jalin is designed to accelerate the stagnating decline in maternal and newborn deaths by developing and packaging available evidence and facilitating co-creation, partnerships, and innovative financing to identify and scale promising solutions.
Finally, Susan leads DAI's pioneering partnership with IntraHealth. This groundbreaking affiliation between for-profit and nonprofit organizations is modeling new modes of partnership for the development community.
M.P.P., international development, Kennedy School of Government, Harvard University
B.S., finance and marketing, McIntire School of Commerce, University of Virginia
x
RELATED CONTENT:
A public health laboratory and quality assurance specialist with 25 years' experience on teaching, research, administrative, and personnel management, Faruk Sarkinfada has an in-depth knowledge of laboratory and health care systems as well as the policies and regulations that govern their operation in low- and middle-income countries.
Read More