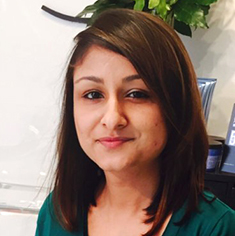 Shikha Gupta is the Senior Strategic Advisor helping DAI's Sustainable Business Group (SBG) grow in a systematic way without losing its business culture, client focus, and high-quality product offerings. Shikha specializes in business transformation, financial management, and risk analysis, especially in the context of complex operational and organizational problems. A manager with more than 17 years of diverse business experience for clients including the U.S. Agency for International Development, the Office for Transition Initiatives, the Department of Defense, State Department, and private sector. She brings comprehensive institutional knowledge of DAI and its work around the world, as well as practical experience managing contracts. Prior to joining SBG, Shikha led DAI's Business Process Management group, where she evolved DAI's companywide policies to make the company more strategic, efficient, and profitable while complying with regulations. She previously served in portfolio and project management roles at DAI, AED, and ISTI, often charged with supporting her employer's most challenging projects and operating environments. Her hands-on assignments included serving as the acting director of a governance stabilization project in Somalia and strengthening a Thai university's ability to manage external funding.
Shikha thrives on opportunities to meet business goals and customer needs through people, process, and technology. In addition to her extensive qualifications in financial analysis, strategic planning, regulatory compliance, business process management, quality assurance, risk management, and a variety of management software platforms, she has a track record of solving complex problems by aligning stakeholder interests at all levels and achieving their buy-in to consensus decisions. Shikha speaks four languages, and has lived and worked in Afghanistan, Croatia, India, Iraq, Jordan, Kazakhstan, Kenya, Malaysia, Moldova, Mozambique, Nepal, Romania, Somalia, South Africa, Sri Lanka, and Thailand during her career.
• B.A., economics, University of Minnesota
x
RELATED CONTENT:
Samantha Weinberg is an international development professional with a background in corporate social responsibility, business and human rights, and corruption. She is currently a Lead Analyst for the Sustainable Business Group supporting the group's software products, Corporate Social Investment portfolio, and Industrial Baseline Studies.
Read More