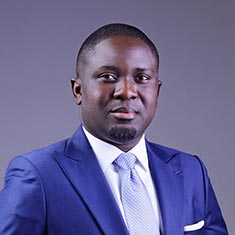 Seun Adesina manages the business development portfolio in DAI's Nigeria office. In this role, his focus is on the development of new business initiatives and the growth of nontraditional business. Since 2007, his professional focus has been sales, client management, and business development in the finance and technology sectors. He previously worked for Interswitch and Dimension Data West Africa. Seun formerly served as a regional manager in the downstream oil and gas sector, where he was responsible for developing the marine business of Forte Oil Plc.
B.Sc., cell biology and genetics, University of Lagos
MBA, finance, Cardiff School of Management
x
RELATED CONTENT:
Marina Krivoshlykova specializes in enterprise development and competitiveness. She provides technical assistance and management support to private sector development projects worldwide, focusing on issues of value chain strengthening, market analysis, and design of strategies for firm and industry competitiveness.
Read More