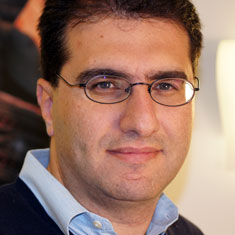 Sani Daher rejoined DAI in 2005 after serving as CEO of the Palestine Trade Center from September 2004 until October 2005. Prior to that, Sani worked for DAI in Palestine from 1999 until 2004, and headed the Business Development Unit for the U.S. Agency for International Development's Market Access Program, advising firms and industries on export-led growth strategies.
Sani has more than 20 years of experience in trade competitiveness, regulated industries, executive management consulting for associations and businesses, and medical device design, manufacturing, and marketing.
Executive M.B.A, Kellogg-Recanati School, Northwestern University
M.S., mechanical engineering, Oklahoma State University
x
RELATED CONTENT:
Said Abu Hijleh, DAI Country Director in Palestine, is an executive manager and private enterprise development specialist with more than 25 years of experience building economic resilience and creating market linkages for the West Bank and Gaza.
Read More