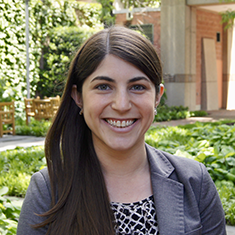 Samantha Weinberg is an international development professional with a background in corporate social responsibility, business and human rights, and corruption. She is currently a Lead Analyst for the Sustainable Business Group supporting the group's software products, Corporate Social Investment portfolio, and Industrial Baseline Studies.
After graduating from Boston University, Samantha worked at the African Presidential Center, a USAID-funded nonprofit, where she managed programs related to economic development and governance in Sub-Saharan Africa.
Also prior to joining DAI, Samantha worked as a Project Manager at Forum One, advising mission driven organizations on digital projects including websites, mobile applications, and software. She has worked in corporate social responsibility consulting related to labor and human rights in supply chains for a D.C.-based firm and on business and human rights programs at the non-profit Ceres. Samantha held various positions in project management, communications, and technical delivery at the UONGOZI Institute, Columbia University, and the National Human Rights Council of Morocco.
M.P.A., development practice, Columbia University
B.A., economics and international relations, Boston University
x
RELATED CONTENT:
Ranjith Poola is an analyst with DAI's Sustainable Business Group, where he provides technical and data analysis support. Ranjith has a passion for using data science to reveal relationships and discover patterns to inform business decision making.
Read More