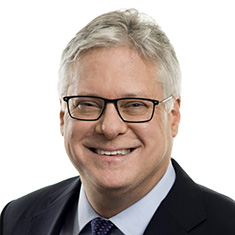 Robert Buergenthal has more than 30 years of global experience designing and implementing governance, democratic reform, justice, citizen participation, and human rights programs. He has worked in more than 50 conflict and post-conflict countries and politically sensitive environments in the Americas, Africa, Central and Southeast Asia, and Europe. Robert's development sector career began in Central America with the U.S. Agency for International Development (USAID) and includes more than 20 years managing projects in the Northern Triangle and throughout Latin America and the Caribbean.
Robert has worked in the public, private, and nonprofit sectors in both domestic and international positions and led numerous global multi-disciplinary teams to build strategic partnerships to support sustainable and socially responsible development. He brings a notable record engaging government, civil society, media, and the private sector to achieve strategic and operational goals through collaborative initiatives.
Prior to his current position with DAI, Robert served as Senior Director, International Strategy, Thomson Reuters Corporation. He previously held positions with the International Development Law Organization, World Bank Group, Organization for Security and Cooperation in Europe, and USAID.
J.D., law, University of Minnesota Law School
B.A., summa cum laude, political science and Latin American studies, University of Minnesota