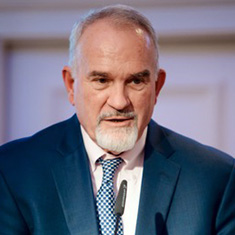 Robert Bond was most recently Chief of Party for the Ukraine Financial Sector Transformation (FST) project, funded by the U.S. Agency for International Development (USAID) and now heads up the Ukraine Financial Sector Reform Activity.
From September 2010 through December 2012, Robert ran the Ukraine Financial Sector Rehabilitation Project (USAID/FINREP), implemented by Booz Allen Hamilton, that helped Ukraine implement reforms to lessen its vulnerability to external financial shocks and increase the adoption of international standards of disclosure, transparency, and financial market regulation.
Prior to running that project, Robert had more than a decade of direct experience supporting the development of Ukraine's capital markets. From 1996 to 2009, he directed four consecutive financial sector reform projects for USAID: Securities and Stock Market Development, Legal and Regulatory Reform of Financial Markets, Capital Markets Development, and Corporate Governance.
He was a founder and President of Financial Markets International, a consulting firm that focused on capital and commodity markets development work for USAID, the World Bank, the Asian Development Bank, the International Development Bank, and private clients. Prior to founding FMI, Robert was a Principal at CARANA Corporation, a consulting firm focused mainly on trade and investment facilitation and building capital markets in Latin America. From 1989 to 1992, he managed the BOLINVEST program for USAID/Bolivia, which provided export and investment assistance to the Bolivian government and private sector to increase competitiveness. Earlier in his career, at First National Bank of Chicago, he had primary responsibility for sovereign credit risk assessment on Latin American debt, and participated with senior bank management in country risk ratings worldwide that drove credit decisions.
Before joining the banking and development consulting fields, Robert was a well-known scholar and expert in Latin American development. He was an Associate for Latin America at the prestigious Woodrow Wilson Center for Scholars in Washington, D.C., and directed the Latin American Studies activity at the Council on Foreign Relations in New York.
Ph.D, political science, Vanderbilt University
x
RELATED CONTENT:
Since joining DAI in 2000, Colleen Green has served as a microfinance specialist providing short-term support to bank downscaling and other programs to benefit micro, small, and medium-sized enterprises.
Read More