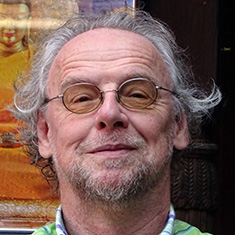 Pieter de Ruijter has more than 30 years of experience in health care technology systems development, specialising in the design and development of planning and management software, and the development of computerised management and planning tools. He has worked across Africa and Asia and focusses on developing technology that functions with a minimum carbon footprint, being low on energy usage and affordable to low- and middle-income countries, keeping in mind a needs-based and context appropriate approach in his developments.
Pieter has been extensively involved in the design and development of the software tool, Planning and Management of Assets in Health Services. He introduced this tool in Malawi for a European Union-funded initiative with the Ministry of Health, and it has also been tested in Kenya, Uganda, Nepal, and Nigeria. Pieter has worked on a programme to strengthen routine immunisation and maternal, newborn and child health programmes in Northern Nigeria. He provided assessment and contracting of building rehabilitation, assessment of health care technology inventory, and developed training material for medical equipment maintenance and solar refrigeration equipment. As Head of Healthcare Technology Management at Health Partners International, he was responsible for health infrastructure, medical equipment, and ICT solutions.
While heading the ICT team, it developed an innovative hard and software solution based on open source software, to provide health training institutes continuous access to an open source electronic learning system (ELS). The ELS solution has recently been implemented in 20 schools in Northern Nigeria for the Women for Health (W4H) project. Previously, Pieter was the Senior Technical Advisor for the Essential Drug Management Programme in the Engineering Department, Uganda.
MTS-MSG, electrical-electronical and mechanical, Technical College, Leiden, The Netherlands
Optics, electronics and optical registration, Technical College for Fotonics, The Hague
x
RELATED CONTENT:
Blessing Musa Stephen is a global health practitioner with a multidisciplinary background of expertise in pharmacy, public administration, management, and health economics, and more than 10 years of experience in the health development sector in Nigeria.
Read More