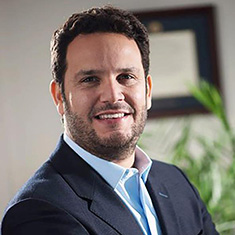 Patrick Wieland is an environmental and natural resource lawyer with more than 16 years of experience improving environmental management in Peru. With a background in law and legal framework development, Patrick has been instrumental in improving the environmental impact assessment process in Peru to promote sustainable investment and ensure the engagement of civil society. He is a thought leader in environmental law and policy, having studied topics such as the distribution of power and responsibilities affecting forest and land use in Peru, carbon rights infrastructure, and mining conflict.
Before becoming the Chief of Party of the Peru Prevent activity, he was a consultant to the World Bank, Executive Director of Peru's Environmental Permitting Agency, Advisor to the Minister of Finance of Peru, and Senior Associate at Baker & McKenzie. He teaches climate change at Universidad del Pacifico and has authored two books, as well as academic articles published in U.S. law journals.
J.S.D., Yale University
LL.M., Yale University
M.Sc., Oxford University
J.D, Pontificia Universidad Catolica del Peru
x
RELATED CONTENT:
Richard Rapier for 15 years has worked in domestic and international programs addressing water security, sanitation, and hygiene, water and waste resource management, and environmental and social impact assessment and management in infrastructure.
Read More