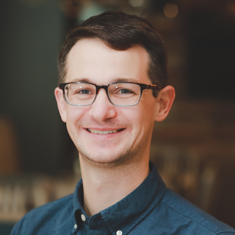 Neil Browning helps clients meet their supply chain goals as they engage with complex dynamics in new and challenging markets. He is a manager at DAI's Sustainable Business Group, leading industrial studies for major multinational firms.
Neil has global experience analyzing the short and long-term social, political and economic impacts of major energy projects. He also has experience in aerospace, defense, ecotourism, and logistics. Regionally, Neil has led projects in the Caribbean, East Africa, Oceania, Northern America, and the Middle East.
Prior to joining DAI, Neil Browning was a Peace Corps volunteer in Malawi, and worked with the United Nations Development Program in Geneva on its public-private partnership with Deutsche Post DHL.
M.P.P., Duke University
B.A., international development, University of Oregon
P.M.P., Project Management Institute
x
RELATED CONTENT:
As Associate Manager for DAI's Sustainable Business Group (SBG), Amy Fisher supports the financial and operational structures of SBG's business unit, in addition to supporting project management across SBG's portfolio of projects.
Read More