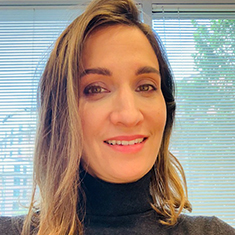 Nadia Scharen-Guivel designs and implements energy and infrastructure projects and programs to private and public entities for donors in Latin America, Southeast Asia, and Africa. Through her extensive experience, Nadia has developed a deep understanding of working with the public sector, the private sector, and civil society on creating an enabling environment; providing financial advisory services to municipalities, states, and private entities; structuring equity and debt for clean energy and infrastructure project; and building public-private partnerships.
Prior to joining DAI, Nadia worked for nine years at the Inter-American Development Bank, first as an energy investment officer for Latin America and then as the Principal Coordinator for Brazil. While there, she developed and structured the financing of projects in renewable energy (solar, small hydro, wind and biomass); infrastructure (toll roads, airports, ports, and waste management); and energy efficiency. In addition, she advised states and municipalities in Brazil on structuring and financing alternatives of public-private partnerships and concessions in clean energy and infrastructure sectors at the state and municipal level and with private entities.
Previously, Nadia was the Head of Structured and Project Finance at Credit Agricole Bank in Brazil and Senior Vice President of Energy and Infrastructure Finance at Santander Bank for eight years. Nadia started her career as a statistical analyst in the development economics department of the World Bank Group.
M.S., financial engineering, George Washington University
M.B.A., finance, University of Nantes
Chartered Financial Accountant, level 1
x
RELATED CONTENT:
Jonathan Randall has been working at the intersection of sustainable economic development, climate change, and environmental conservation for more than 17 years.
Read More