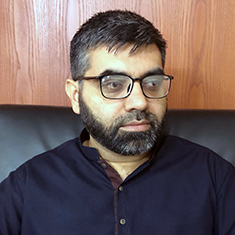 Muhammad Shoaib has more than 15 years of experience managing and implementing complex programs in difficult operating environments across Pakistan, including seven years on small grants programs along the border areas with Afghanistan and three years of small grants program in Southern Punjab and Sindh, all funded by the U.S. Agency for International Development's Office of Transition Initiatives.
Muhammad has served in leadership roles on programs with significant countering violent extremism and resilience components for 10 years. He led a team of more than 120 staff with two regional offices in Lahore and Karachi and main office in Islamabad.
M.A., development studies, University of Manchester
M.A., political science, University of Peshawar
x
RELATED CONTENT:
Peter Dimitroff holds more than 25 years of international development and project management experience, primarily in the Middle East and Afghanistan and focusing on anti-corruption, budget transparency, legislative strengthening, and women's empowerment.
Read More