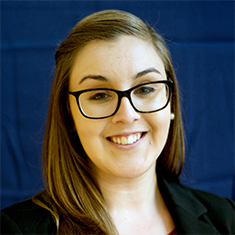 Monique St. Jarre is a Senior Analyst with DAI's Sustainable Business Group (SBG), where she provides technical analysis, program management, and business development support to corporate social investment (CSI) projects globally. She currently leads social and economic impact reporting for a multi-year entrepreneurship and innovation program in West Africa and contributes to strategy development for new CSI programs through desktop research, stakeholder mapping, expert interviews, and visits to the field. Monique has also focused on renewable energy and climate adaptation for micro and small businesses in multiple markets in Latin America.
Prior to joining DAI, Monique was an enabling environment specialist at USAID/Power Africa, a U.S. government initiative aimed at increasing energy access in Sub-Saharan Africa. At Power Africa, she led the development of new qualitative and quantitative data tools to track regulatory trends across the African power sector, as well as provided analytical, research, project management, and operations support to the Energy Office. Monique also managed a multimillion-dollar project that built African government capacity on key energy policy reforms and served as the main liaison for several country portfolios, U.S. government interagency counterparts, and bilateral donor agencies. Monique started her career working for an industry association in Ghana, where she focused on value chain competitiveness for local agribusiness companies.
B.A., world politics, Hamilton College
x
RELATED CONTENT:
Jeanne Ellis is a Director for DAI's Sustainable Business Group, where she manages a portfolio of projects in social impact management, local content development, and corporate social investment.
Read More