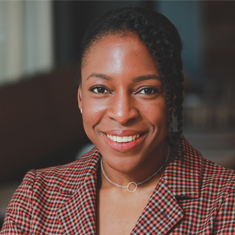 Mobola Sandey is a Principal Specialist with DAI's Sustainable Business Group, where she focuses on sustainable supply chain, supplier development, and local content issues. She uses her expertise in global sourcing, supplier management, project management, and the energy sector to deliver value to government, donor, and private sector clients. Mobola leads teams to deliver supply chain advisory services, market studies, and software solutions that benefit clients as well as the societies they operate in. Recently, she has delivered on projects in Guyana, Kazakhstan, Mauritania, Senegal, and Sierra Leone.
Before joining DAI, Mobola spent six years with BP in the upstream procurement and supply chain function on major projects and operations in Azerbaijan, Iraq, Mauritania, Senegal, and Scotland. Her prior professional experience includes placements at the Coca Cola Company and UNESCO.
Mobola is from Lagos, Nigeria, and has lived in Cote D'Ivoire, France, and the United Kingdom.
B.Eng., materials science and engineering with management, Imperial College London
Master's, international business, Grenoble Ecole de Management
Member, Chartered Institute of Procurement and Supply
APM Project Management Qualification
x
RELATED CONTENT:
Ellen Haile has a background in Applied Economics and currently supports the Sustainable Business Group as an Associate Analyst.
Read More