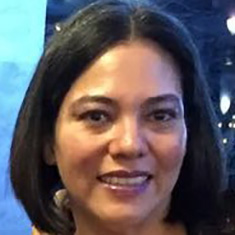 Mily Cortés-Posas has more than 15 years of experience in renewable energy and cleaner production, working for the last six years for DAI in Honduras as a renewable energy and cleaner production specialist.
Prior to DAI, she worked stints as the director of the Renewable Energy Center, a professor at Zamorano University, the technical director of the Honduran National Cleaner Production Center, and a consultant on several national and regional projects. She has experience designing and directing projects related to sustainable development, with an emphasis on pollution prevention and renewable energy. She designed and procured funding for Zamorano's Improved Stove Certification Center, and its solar and biogas learning-by-doing facilities. While directing the Cleaner Production Center, she conducted more than 21 cleaner production audits and participated in regional projects to improve the environmental management of key sectors such as coffee, dairy, and tannery. She also led several studies concerning the environmental and economic sustainability of different industries such as forestry, biodiesel production, and bioethanol production.
Mily has worked with a broad range of renewable energy alternatives, from improving the environmental sustainability of grid-connected projects to creating local renewable energy markets for off-grid projects. She has experience working with government officials, private developers, and community leaders on the improvement of conflict-solving capacities and the implementation of environmental management measures. She believes that informed people always make the right choices, therefore she has developed several instruments to help educate on renewables. Her off-grid experience focuses on improving households' access to clean energy and training local entrepreneurs to deliver and maintain renewable energy systems in areas off the grid.
International Leadership Training: Managing Development in the Energy Sector, InWEnt, Germany
Ph.D., chemical engineering (environmental applications), University of Cantabria, Spain
x
RELATED CONTENT:
Kevin Carlucci is a development professional with more than 20 years of experience across a diverse set of disciplines, including finance, natural resource management, economic policy reform, and emerging market economic development.
Read More