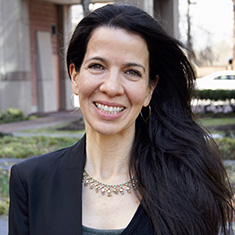 Leslie Gonzales is an international development professional with nearly 20 years of experience designing, implementing, managing and evaluating gender, youth, and stabilization programs in Africa, Asia, the Middle East, South America, and Eastern Europe. Currently, she is the Project Team Director for DAI's Africa project portfolio. As Director, Leslie has full technical, financial, and compliance responsibility for a portfolio of projects in Africa. She ensures high-quality programming and achievement of development outcomes, through supervision of chiefs of party in her portfolio. She has the technical and administrative experience in capacity building to manage project activities, solve implementation problems, and achieve project goals, and the management and team leadership skills to help guide the project.
Leslie previously led long-term projects as Chief of Party for the U.S. Agency for International Development (USAID) in Rwanda and Iraq, as well as serving as Gender Advisor to USAID in Pakistan, and Field Program Officer and Regional Development Advisor to USAID in Afghanistan. In addition to leadership and project management skills, Leslie has technical expertise in gender equity and integrating gender policies in programming and processes; skills building and democracy training for local governments; design of participatory community development activities; civil-military coordination and collaboration; and youth activities and training.
M.A., development studies, Université de Genève
x
RELATED CONTENT:
Alid Camara is a Senior Lead Specialist at DAI, leading program design and technical delivery assignments within the public finance management (PFM) practice.
Read More