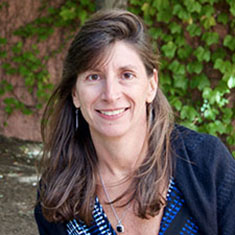 Growing up, Lara Goldmark was asked so often whether she wanted to be a doctor or a lawyer that she chose neither. Instilled with a global outlook by her French mother, Lara knew from an early age that she wanted to pursue an international career. After earning a degree in political science, her fluency in English, French, Spanish, and Portuguese helped her get a job organizing an HIV/AIDS conference in Latin America for the Pan American Health Organization. Lara's first field experience was in Limón, Costa Rica, working in a shelter for street kids. When she first flew back to the United States, she still remembers seeing the world through the kids' eyes, how colorful the Miami airport looked and how many rich gringos there were.
Lara later worked with the Inter-American Development Bank's Microenterprise Unit, launching her career in finance for the disadvantaged. She consulted and designed loan packages for microfinance institutions, savings cooperatives, and agriculture stakeholders in Central America, Haiti, and Brazil. After joining DAI, Lara worked four years in Brazil, leading a microfinance strengthening program for Banco Nacional de Desenvolvimento Economico e Social. While in Brazil she founded a DAI subsidiary, DAI Brasil, that offered consulting services to Brazilian banks, international donors, and private companies engaged in corporate social responsibility initiatives. She later led the Improving the Business Climate in Morocco project, where she studied derija, the Moroccan dialect of Arabic.
During a period away from DAI, Lara worked on a shared value consulting project with mining company in Peru, reviewing their social investments and proposing a multi-stakeholder water clean up strategy that was approved by the CEO for Latin America. She then spent three years at FHI 360, building the international workforce practice and leading a global research and training program called Workforce Connections.
Lara now leads DAI's Economic Growth portfolio, the largest in the company and the heartland of our work. She oversees a team of specialists organized into five practices: financial services, agriculture and agribusiness, trade and competitiveness, workforce development, and business environment reform. "I came back because this is a company that believes in me and the work that I do," she said, "and that keeps me growing professionally."
M.A., international economics/Latin American studies, Johns Hopkins School of Advanced International Studies
B.A., comparative politics and French literature, Wesleyan University
x
RELATED CONTENT:
John Maris explores ways in which DAI can invest in enterprises that align with the company's mission and create value for people around the world.
Read More