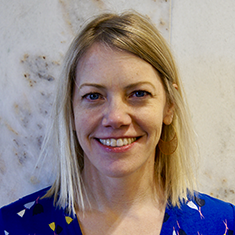 Katie Taratus was most recently the Director of the Preparedness and Response (P&R) project, which worked in 16 countries in Africa and Southeast Asia to institutionalizes multisectoral collaboration across government ministries and with the private sector. P&R drives One Health collaboration to support improvements in public health, animal health, and environmental health by developing, testing, and documenting innovative tools and approaches that support multisectoral health security goals.
Since joining DAI in 2006, Katie has supported projects focused on health security, food and nutritional security, livelihoods, economic strengthening, and resiliency. She led a World Food Programme evaluation team in Haiti and managed a portfolio of projects in Africa including activities in the Democratic Republic of Congo, Kenya, Malawi, Mozambique, Rwanda, Tanzania, and Uganda. Throughout her tenure at DAI, Katie's focus has been on building teams, improving systems and process, and promoting clear and effective communications that incentivize collaboration. Before joining DAI, Katie worked for the U.S. Agency for International Development's Mali Accelerated Economic Growth team, the American Friends Service Committee's Africa Peace Education Program, and SNV's small enterprise promotion project in northern Tanzania.
International M.B.A., Moore School of Business, University of South Carolina
B.A., anthropology and English, University of Virginia
x
RELATED CONTENT:
Kim Shelsby is a member of DAI's Global Health team, leading strategy and growth initiatives for DAI's growing portfolio of supply chain engagements among both donor and private sector clients.
Read More