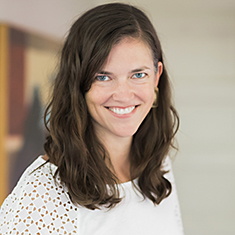 Kate Heuisler is a development practitioner with 15 years of experience designing and managing development programs in 16 countries. As a cultural anthropologist, Kate is passionate about keeping people at the center of the work, and uses human-centered design principles to design and develop projects based on political, economic, and cultural needs in the countries and regions where she works. She is currently the Chief of Party for the U.S. Agency for International Development (USAID)-funded Development Innovations project in Cambodia, a project designed as an innovation "lab" to support civil society organizations and social enterprises to design and use information and communication technology (ICT) tools to address local community needs.
"Innovation is increasingly important as resource pools constrict and change across the globe. As practitioners, we need to begin with the problems our users are facing, and help them connect to processes and tools that are affordable, accessible and appropriate. Technology tools can't solve problems without people." — Kate Heuisler
Prior to this, she was in Uganda from 2010 to 2014 as an independent consultant specializing in program design and development, situational research, and organizational capacity building. Previously, she worked for DAI in Bethesda, Maryland, providing strategic and management advice to post-crisis, civil society support, and community engagement projects across the globe. She served as the Deputy Chief of Party and then Chief of Party for the DAI Small Grants Program in Timor-Leste from 2004 to 2008, supporting and growing civil society, private and government service delivery, and capacity after the country's independence.
M.Sc., cultural anthropology, University of Pennsylvania

Fluent in Spanish and Tetum
x
RELATED CONTENT:
Brigit Helms has more than 25 years of experience pioneering innovative approaches to financial inclusion and seeking enterprise and market-based solutions to poverty.
Read More