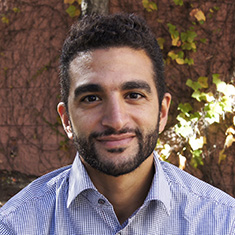 Karim Bin-Humam joined DAI in 2015 to help bridge the divide between cutting-edge technology and the needs of poor and vulnerable communities globally. Karim studied mechanical engineering in the United States and Germany and worked as an engineering project management consultant at BMW in Munich, where he led battery development projects for hybrid and electric vehicles. His passion for international development and desire to aid social impact led him to pursue further studies in international development and economics, focusing on politics and governance in development. His international development work includes communications media with UNICEF in New York, construction management with the United Nations Development Programme in Palestine, and innovation in international development with the Global Knowledge Initiative in Washington, D.C.
M.Sc., information systems in mechanical engineering, Technische Universität München
M.A., international economics and development, Johns Hopkins School of Advanced International Studies
B.Sc., mechanical engineering, Tufts University
x
RELATED CONTENT:
Kate Heuisler is a development practitioner with 15 years of experience designing and managing development programs in 16 countries.
Read More