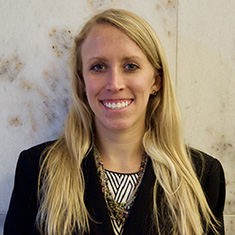 Julie Sellers is a Workforce and Development and Youth Specialist with more than five years of experience on both the project and business development side. She has conducted field research in 10 countries in Latin America and Africa. While her work focuses on driving competitiveness and productivity for businesses and creating inclusive, demand-driven employment opportunities for young people, Julie strives to bridge the gap between education and employment for vulnerable youth by advocating for and designing work and project-based learning experiences.
She has designed and carried out labor market assessments in Honduras, Guatemala, and Jamaica for donor-funded education projects, where she evaluated post-secondary and university training institutions' curricula to identify gaps and update curricula as demanded by the private sector. Julie has coordinated field research and contributed to technical proposals for business development initiatives in Tanzania and Rwanda, as well as in El Salvador, Honduras, Kosovo, and Nicaragua procured through the U.S. Agency for International Development (USAID)'s YouthPower mechanism. She organized multiple USAID technical capacity building workshops and materials under the Workforce Connections project. With strong academic knowledge and empirical research background, Julie strives to ensure that technical and vocational education and training systems emphasize marketable technical and socio-emotional skills demanded by the private sector to create youth-inclusive labor market opportunities.
M.A., international education and development, American University
x
RELATED CONTENT:
Deborah Greebon is an education and capacity building specialist with more than 15 years of experience developing, managing, and evaluating projects across Latin America, Africa, Asia and the Middle East.
Read More