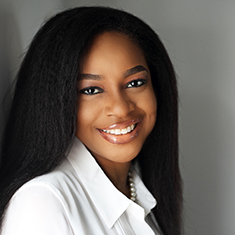 Judith Ogedegbe serves as Executive Director for DAI in Nigeria, responsible for all of DAI's operations in Nigeria. She started her career with Shell Petroleum Development Company. Having completed her master's degree in human resource management and development, with extensive executive education from the Harvard Business School and London Business School of Finance, she has developed an executive-focused client relationship management style, serving multiple clients and organisations.
She has implemented and managed several human resource and business operation initiatives in multiple donor programmes across Nigeria and other organisations in Africa. Judith has extensive experience working with large development partners and international organisations. Her previous professional experiences includes an Executive Director role at GRID Consulting, where she played a lead role in the merger and acquisition of GRID with DAI, and as a Country Representative of Louis Allen Worldwide, leading in the transformation and integration of the one of the largest telecommunications company in Nigeria.
M.A., human resource management and development, University of Manchester
x
RELATED CONTENT:
William McKenzie is a Director within DAI's Global Operations Strategy.
Read More