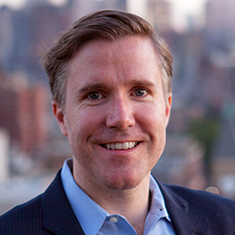 It all started 20 years ago with an internship at a small Washington, D.C.-based microfinance outfit—John Jepsen was exposed to development issues and found his career. A few years later, he would land at DAI.
Since then, John's expertise in economic growth programming has been honed over nearly two decades at DAI. John has held corporate positions with DAI's U.S. government, European, and South African operations. He also served as Deputy Chief of Party for a U.S. Agency for International Development (USAID) financial inclusion program in Haiti. During his career, he has gained unique insights into various donor strategies and approaches, having developed and managed programs on behalf of USAID, the U.K. Department for International Development, European Commission, the European Bank for Reconstruction and Development, and the International Finance Corporation, among others.
John has a particular expertise in applying market systems approaches and making markets work for the poor (M4P) strategies to economic growth programming, as well as specializations in various financial inclusion and capital mobilization topics. John is also a tested technical trainer and speaker, who is often invited to speak at international fora on financial inclusion. John regularly writes on financial inclusion topics, including as co-editor of the financial inclusion series originally published on the Guardian's Global Development Hub, and "Applying the Market Systems Approach to Financial Inclusion Programming."
John is based in New York City and has worked in more than 20 countries.
B.A., international relations and French from American University

M.B.A., University of Maryland, Smith School of Business
x
RELATED CONTENT:
Patricia Sturgess has a unique background that combines more than 13 years of experience in the private, public and voluntary sectors, with expertise in livelihoods, aid management, international relations and security, and political analysis.
Read More