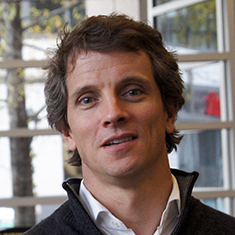 Twenty years ago, John Costenbader joined the Peace Corps to serve as a forestry volunteer in Mali's rural Dogon region. After he learned to ride a motorcycle and speak Bambara and Dogon, John worked with farmers in 24 villages to develop grafted fruit tree nurseries and improved beekeeping projects. For two years on the edge of the Sahara Desert, John endured bouts with malaria, intestinal parasites, dust storms, and a steady diet of millet and okra, and was captivated by a desire to address the types of environmental and natural resource challenges facing his host village. On his return from Africa, John earned environmental policy and law degrees, and has worked to find solutions to sustainability challenges in developing countries.
Fluent in French, Portuguese, and Spanish, John has advised a broad swath of global clients on natural resource, clean energy, and climate change issues. His work ranges from authoring guidelines on regulatory solutions for sustainable forest management and forest conservation to presentations for corporations, policy makers, and civil society on renewable energy policy and payments for ecosystem services.
In Southeast Asia, John led development of a national funding mechanism for forest conservation in Vietnam and an FAO review of five Mekong countries' drivers of forest change and corresponding policy solutions. In Papua New Guinea, he collaborated with government and civil society stakeholders to develop a national climate change policy and revise forest sector laws. In Mozambique, Tanzania, and Zambia, John led a regional initiative to adapt natural resource laws to climate change. John's work also includes evaluating the U.S. Agency for International Development Honduras Mission project portfolio's resilience to expected climate impacts, and counseling industrial clients on U.S. biofuel and energy efficiency regulations.
J.D., The George Washington University
M.P.A., environmental policy and natural resource management, Indiana University
B.A. philosophy, Colby College
x
RELATED CONTENT:
Donald Lunan is the Director of the Delivery Unit in DAI's Europe office, overseeing the implementation of DAI's portfolio of programmes with multilateral and UK bilateral donors.
Read More