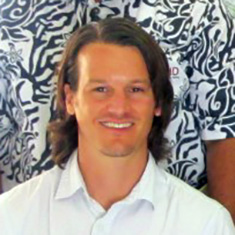 Joey Manfredo is an international development professional with more than a decade of project management and leadership experience in the Asia-Pacific region. Most recently, he served as Deputy Chief of Party of Protect Wildlife, a five-year project designed to arrest wildlife trafficking and promote biodiversity conservation in the Philippines. He led efforts to program work plan activities and oversees field office management, communications, monitoring and evaluation, finance, and administration.
Joey joined DAI in 2011. He previously served as Deputy Chief of Party for the Pacific Islands Coastal Community Adaptation Project (C-CAP). His Pacific Islands experience dates to 2005 when he served as a Peace Corps Volunteer for three years in Tonga. In addition to his native English, he speaks Tongan. Prior to his international development work, he was an account executive for Philadelphia-based Simon Public Relations Group, where he managed media relations and editorial content for nonprofit clients.
M.A., public policy with specialization in environmental aspects of development, University of Maryland
B.A., public relations, Pennsylvania State University, Schreyer Honors College
x
RELATED CONTENT:
Patrick Wieland is an environmental and natural resource lawyer with more than 16 years of experience improving environmental management in Peru.
Read More