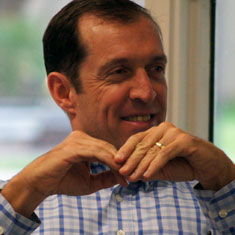 After graduating from Georgetown University's McDonough Business School, Jim Winkler accepted a two-year assignment in Costa Rica as a small business advisor with the Peace Corps rather than the well-heeled path of Wall Street and corporate America that most of his classmates followed. "I found myself working on tough, real life issues that really made a difference in people's lives in Costa Rica," Jim said. "I was asked to do much more in a foreign culture and language than I would have been doing in a typical career at home."
Jim leads DAI's Global Practice in Trade and Investment, specializing in private sector development, economic growth, competitiveness, and governance. After completing a Ph.D. at The Fletcher School, he joined DAI in 1990 and has since worked for 13 years in the head office and 14 years overseas in Bangkok, Jerusalem, Zagreb, and Hanoi. In 2004, he completed a high-profile, 18-month assessment for the U.S. Agency for International Development (USAID) on enterprise and economic growth strategies, providing a framework for a new era of development projects that integrate institutional and policy reforms with support for the private sector. He currently leads DAI's trade portfolio of 20 projects valued at $550 million, operating in 37 countries financed by USAID, the U.K. Department for International Development (DFID), and the European Commission.
"I believe we can make a big difference to improve the prosperity of people in any situation. I like taking on challenges when people say something isn't possible. Helping Palestinian manufacturers to improve productivity and export during the Intifada, or a prime minister or minister reduce corruption and improve government services, or a trade association open up new markets for a country, these examples turn the status quo upside down for the better." — Jim Packard Winkler
Jim has worked at the highest levels of government with cabinet-level officials and business leaders to develop innovative market and institutional reforms in each country. The creation of innovative institutions such as Paltrade in Palestine to promote trade and economic integration in the global economy and the Prime Ministers' administrative reforms in Croatia and Vietnam required innovative design and consulting services within the political, economic, business, legal, and institutional realities of each country.
Ph.D., international relations, The Fletcher School, Tufts University

Report on "Enterprise Growth Initiatives: Strategic Directions and Options" for USAID in 2004, a new approach to emerging and conflicted economies

Five-time Chief of Party on USAID projects; Technical Director of DFID projects in Myanmar and FoodTrade East and Southern Africa, and home office-based Technical Representative for the USAID East Africa Trade & Investment Hub in Nairobi and Southern Africa Trade & Investment Hub in Pretoria.

Fluent in Spanish and basic knowledge of Arabic, Thai, and Vietnamese

Board of Directors, Corporate Council on Africa

Author, "Opinion: Why we should stick to the trade route out of poverty," Devex
x
RELATED CONTENT:
Helle Weeke specializes in trade, investment, and legal development issues. As Chief of Party and Senior Technical Advisor to the U.S. Agency for International Development (USAID)-funded Vietnam Competitiveness Initiative, she supported the release of the Provincial Competitiveness Index.
Read More