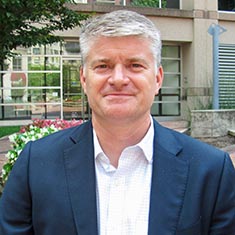 Jeremy "Jez" Haslam is an international development and crisis response specialist with more than 17 years of experience delivering programs in countries facing complex emergencies, conflict, or political transition. As Senior Principal Global Practice Leader, he is responsible for the management and integration of technical and operational aspects of our portfolio of projects in Burma, Kenya, Pakistan, and the Philippines.
Previously Director, Political Transitions Practice Area with Creative Associates International, he managed USAID/OTI initiatives promoting crime and violence reduction in Honduras, the Community Cohesion Initiative in Afghanistan, the CVE initiatives in Cameroon, Nigeria, and Pakistan, and the USAID West Africa-funded Partnerships for Peace regional CVE program. Jez served two consecutive posts as Chief of Mission for the International Organization for Migration (IOM) in Libya (2011-2012) and Uganda (2007-2011). Jez has also previously supported U.S. Marine Corps and U.S. Army training exercises for future humanitarian assistance and disaster response missions and as a USAID/OTI Acting Chief of Party in Afghanistan.
He has extensive knowledge and experience of post-crisis community stabilization initiatives, including socio-economic reintegration of disenfranchised groups and community-based approaches to resiliency. Formerly a British Army Officer, Jez saw operational service in Kosovo as part of the NATO Peace Keeping Force, where he monitored and enforced compliance with the Military Technical Agreement, which provided the framework for the Kosovo Liberation Army's disarmament demobilization and reintegration through transition to a civil protection and emergency response force, known as the Kosovo Protection Corps.
M.A., leading innovation and change, York St. John University, United Kingdom
BSc. (Hons.), estate management surveying, University of Glamorgan, United Kingdom
x
RELATED CONTENT:
Tine oversees the development, marketing, and delivery of DAI's development solutions for the U.S. Agency for International Development (USAID), the State Department, and other U.S. Government clients.
Read More