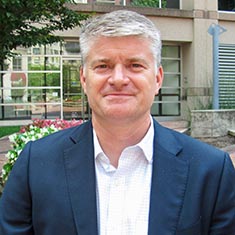 Jeremy "Jez" Haslam is an international development and crisis response professional with two decades of experience delivering programs in countries facing complex emergencies, conflict, or political transition. As Vice President for the Center for Secure and Stable States (CS3), he leads a team responsible for research, design, delivery and future development of the technical and operational aspects of CS3's program portfolio, which currently includes stabilization and peacebuilding program activities in Afghanistan, Burma, Central Asia, Malaysia, Mozambique, and Pakistan.
Previously Director, Political Transitions Practice Area at Creative Associates International, he managed a team that implemented the U.S. Agency for International Development (USAID)'s Office of Transition Initiatives (OTI) programs in Afghanistan, Cameroon, Honduras, Nigeria, and Pakistan, and the USAID PEACE IQC West Africa Partnerships for Peace regional countering violent extremism program. Jez served 12 years with the International Organization for Migration (IOM) (2000-2012), including two consecutive posts as Chief of Mission in Libya (2011-2012) and Uganda (2007-2011). During the 2011 Libya uprising, he designed and led IOM's in-country emergency evacuation operations to safely evacuate thousands of migrants from conflict zones by land, sea, and air. Jez has also previously supported U.S. Marine Corps and U.S. Army training exercises for future humanitarian assistance and disaster response missions.
Formerly a British Army Officer (Reserve), Jez saw operational service in Kosovo (1999-2000) as part of the NATO Peace Keeping Force, where he monitored and enforced compliance with the Military Technical Agreement, which provided the framework for the Kosovo Liberation Army's disarmament demobilization and reintegration, and transition to a civil protection and emergency response force, known as the Kosovo Protection Corps.
M.A., leading innovation and change, York St. John University, United Kingdom
BSc. (Hons.), estate management surveying, University of Glamorgan, United Kingdom
x
RELATED CONTENT:
Christy Martins has 15 years of international development experience, focused on community development in transition, post-conflict, and post-disaster situations in Asia, Latin America and the Caribbean, and Africa.
Read More