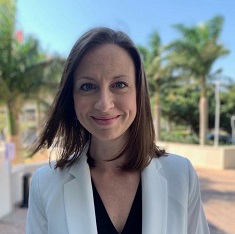 Jemima is an international training professional with a strong track record of building relationships with clients from all over the world to develop learning solutions that meet their needs. At DAI's Sustainable Business Group, she is responsible for capacity building and expanding the group's training offerings.
Early in her career, Jemima worked in Caracas, Venezuela, setting up a language services business to provide translation, interpreting, and teaching services and gaining knowledge of how to build a business in another country.
Prior to joining DAI, Jemima was Director of International Training at a company that provided parliamentarians, civil servants, and regulators from around the world with off-the-shelf and tailored professional training. Leading a team of program development, commercial, and facilitation professionals, she built up the business to organize and deliver more than 50 distinct training programs in a variety of public policy fields in the United Kingdom and internationally.
Jemima has worked on exciting projects with a range of organizations, including in a partnership with the United Nations Environment Programme to develop a professional training program on climate change and security for policy-making.
M.A., international relations, Queen Mary, University of London
B.A., Spanish and Italian, University of Bristol
x
RELATED CONTENT:
Mike Walsh's credentials as DAI's leading watchdog were earned over a 30-year career of scrutinizing procurement worldwide. During tenures as the U.S. Agency for International Development's (USAID's) contracting officer in Bangladesh, Egypt, and East Africa, Mike managed some of the most successful and innovative projects in the USAID portfolio.
Read More