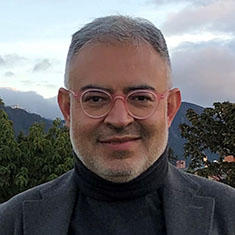 Jaime Torres-Melo is a professor and researcher from Bogota, Colombia, on topics such as transparency, anti-corruption, integrity, preventive control, governance, public management, and innovation with an institutional analysis, behavioral science, and public policy analysis approach.
He is currently the Chief of Party of the Partners for Transparency activity. He has served as Sector Deputy Director of the National Planning Department of Colombia, Deputy Director General of the National Public Service Office, and District Ombudsman of Bogota between 2016 and 2019. He has also worked with the U.S. Agency for International Development, the United Nations Development Program, and the Attorney General of the Nation, among others. Jaime has worked at universities such as the Andes, Javeriana, London School of Economics, Bolivariana, and Externado, among others.
He led the development process of the Comprehensive Anti-Corruption Public Policy of Colombia 2013-2018 and Bogota's District Public Policy on Transparency, Integrity, and No Tolerance for Corruption 2018-2028. He also led the creation of the Transparency and Anti-Corruption Network in Latin American Cities and participated in the implementation of the Lorenzetti Transparency Program (with Barcelona, Paris, and Montreal).
He has participated in the development and implementation of the second and third Action Plan of the Open Government Partnership, in the implementation of the High-Level Complaint Mechanism for the Bogotá Metro Project (with the Secretariat of Transparency of the Vice-Presidency of the Republic), and in the process of admission of the country to the Public Governance Committee of the Organisation for Economic Co-operation and Development.
He is co-author of books such as Introducción a las políticas públicas: Conceptos y herramientas desde la relación entre Estado y ciudadanía (2013), Metodología para la actuación preventiva de la Procuraduría General de la Nación en las diferentes etapas del ciclo de las políticas públicas (2011), and has published numerous articles and chapters in books.
M.A., development management, London School of Economics
Specialist, development planning and administration, Universidad de los Andes
B.A., civil engineering, Universidad Nacional de Colombia
x
RELATED CONTENT:
As a former scholarship recipient of a U.S. Agency for International Development Guatemala leadership scholarship program, Carla Aguilar began her professional career working with displaced populations in Guatemala during the Civil War.
Read More