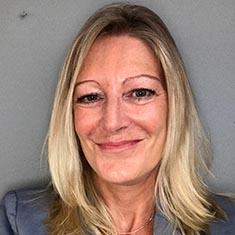 As Senior Global Practice Leader for Health Equity, Jacqui Moller Larsen provides thought leadership and technical input into the design and implementation of projects in a broad range of health areas for a diverse set of clients. Additionally, her role promotes connectivity across our health practice areas that create multi-sectoral responses to complex health issues as well as the inclusion of evidence-based, crosscutting approaches to tackling social determinants such as social and behavior change.
Jacqui has 25 years of experience in public health, leadership development, and organizational change management in both the United Kingdom and low-income countries and has lived and worked in Africa and Asia.
Prior to joining DAI, she was Country Director with FHI360 in Tanzania and in three years built up the country office platform and project portfolio as well as led the U.S. Agency for International Development (USAID)'s flagship social behavior change project, she successfully transitioned this leadership role to a Tanzanian colleague. Jacqui previously had her own independent global health consultancy providing technical assistance to core clients such as USAID, United Nations Children's Fund, and World Health Organization.
BSC (hons.), sociology and applied social research, Northumbria University
M.Phil, health and healthcare management, City University London
Fellow, Faculty of Public Health, United Kingdom
Accredited Public Health Specialist, U.K. Public Health Register
x
RELATED CONTENT:
Charlotte Laurence is a Senior Health Advisor for DAI Global Health, focusing on programme delivery, technical strategy, and proposal development.
Read More