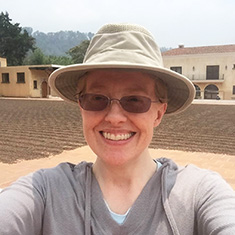 Gwen Andersen's interest in renewable energy came from being impressed by the tremendous difference even a small amount of electricity can make in every sector, be it education, health, security, or income generation, and being a gadget queen.
When she entered the field more than 20 years ago, renewable energy was expensive and only appropriate for rural areas that lacked steady access to fuel and maintenance expertise. When renewable energy prices plunged, she moved to utility scale energy. She managed the turnaround of a renewable energy center that focused on community ownership so that local people received as much of the economic benefit from the power plants as possible. Since then she has been working to increase the speed at which developing countries adopt renewable energy by improving access to finance.
"The success of renewable energy has never been about the technology. It has been about the institutional environment. Originally success depended on developing cost recovery mechanisms and training local people to be able to take care of the system. Now it depends on the enabling environment that allows renewable energy to compete fairly with fossil fuels."
Gwen's focus is on wind, solar, and small hydro but she has also worked on biomass power generation when managing a study for a 50-megawatt power plant at a cement factory in rural Pakistan. Her work has ranged from writing a guidebook on rural electrification and teaching safe installation of solar home systems to making presentations to policy makers and businesses on investing in renewable energy. Gwen led the first online formal education program on renewable energy finance and economics through the School of Business of Saint Francis University. Recently, she conducted training for the U.S. Agency for International Development and for financial institutions in Central America on renewable energy technology. At DAI, she helps maximize the synergies between energy services and economic growth, agriculture, and health.
MBA, finance, American University
MA, international development: appropriate electrification technology, American University
BA, international relations, Bryn Mawr College
x
RELATED CONTENT:
Alma Porciuncula has been leading DAI's work in the Philippines on innovative financing for water supply and sanitation projects, policy, and regulatory and utility reform since 1994.
Read More