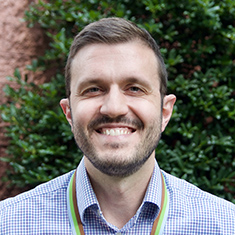 Greg Maly has spent his career working at the intersection of global development and diplomacy, technology, and the arts. Joining DAI in 2017, he works to develop and implement data collection and analysis technologies in support of a range of thematic areas.
Prior joining DAI, Greg conducted data-driven conflict analysis research at the U.S. Department of State's Bureau of Conflict and Stabilization Operations, designed data collection and analysis tools for the University of Denver's Global Health Affairs Program, and developed some of the first distance learning courses at the U.S. Institute of Peace's Academy for Conflict Management and Peacebuilding. A believer in life-long education, Greg is an active course instructor at the Institute for Technology and Social Change (TechChange) and the Sitar Center for the Performing Arts, where he teaches courses ranging from open source geographic information systems (GIS) to sound engineering.
M.A., international studies, Josef Korbel School of International Studies at the University of Denver
B.A.. policy, ethics, and conflict, St. Mary's College of Maryland
x
RELATED CONTENT:
Kate Heuisler is a development practitioner with 15 years of experience designing and managing development programs in 16 countries.
Read More