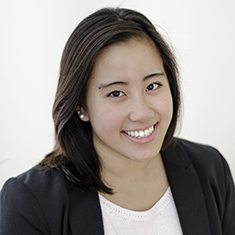 Grace Cha is an Associate Manager on the Partnerships and Insights team within DAI's Center for Digital Acceleration (CDA). In her current role, she brings a mix of business development, technical assistance, and project management expertise for CDA client projects. Prior to joining DAI, Grace held a number of business development and project management roles for global health projects, with cross-cutting experience in leadership training and development, business process improvement, and operations management. She was most recently a senior manager at Chemonics, where she collaborated extensively with executive-level senior management to identify, research, strategize, and advise on pursuing business development opportunities and determining key insights by combining research and analysis with critical business drivers. She concurrently served on the activity core management team for a program focused on delivering research, knowledge, and training products to the U.S. Agency for International Development (USAID)'s Acquisition and Assistance workforce, with the goal of developing a foundational understanding of applying innovative finance approaches to the design and development of USAID awards. Grace also brings prior strategy, research, and implementation experience as a graduate assistant at the Johns Hopkins School of Advanced International Studies, where she conducted and supported research on management, governance, and foreign aid in international development; as a consultant for data-driven social science research consultancy Athena Infonomics, investigating the market for social impact bonds in India; and as a research assistant in the St. Mary's College of Maryland Department of Psychology, where she designed a study on uses and gratifications from social media platforms.
M.A., international development and international economics, Johns Hopkins School of Advanced International Studies
B.A., economics, psychology, and Chinese, St. Mary's College of Maryland
x
RELATED CONTENT:
Kristen Roggemann has extensive field experience in the Middle East and Africa working on mobile-for-development initiatives in both public and private sector contexts.
Read More