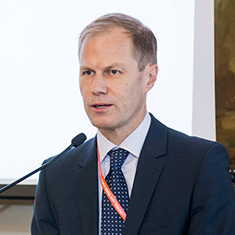 Geoffrey Wright is a senior trade and regulatory reform leader with 26 years of experience. He specializes in trade facilitation, including customs, transport, procedures and partnerships; trade policy, including World Trade Organization accession and compliance; trade development and export promotion; investment climate strengthening, including legislation, incentives and licensing reforms; and strengthening of trade associations and trade-related agencies.
He began his career with New Zealand Treasury and then worked for that country's largest investment bank. He has subsequently served in long-term and short-term field roles managing teams to implement donor-funded projects for Maxwell Stamp PLC in London and Deloitte Consulting in Washington, D.C., as well as an independent consultant.
For the U.S. Agency for International Development (USAID) in Jordan, he led the competitiveness component of an $84 million project. He also served as an Acting Chief of Party for a USAID Pakistan trade project where he managed a range of customs and trade policy reforms.
Geoff's work on trade-related issues in Central Asia includes serving as a Regulatory Advisor in Kazakhstan and Turkmenistan on the USAID Central Asia Republics Economic Reform and Competitiveness Project. He has reviewed existing and proposed commercial legislation to enhance the business enabling environment in Turkmenistan; prepared contract documentation for Kazakhstan's first Public Private Partnership transaction; designed a detailed roadmap for Turkmenistan's WTO accession; led a survey of 100 manufacturing companies in Kazakhstan to meet local content requirements; and analyzed trade flows and export opportunities throughout the Central Asia region.
Master of Law, University of Auckland, New Zealand
Master of the Economics of Development, Australian National University
Bachelor of Laws, University of Otago, New Zealand
Bachelor of Commerce (Hons), University of Otago, New Zealand
x
RELATED CONTENT:
Carolina Benevides Lima was formerly an investment banker at Nomura in New York, where she covered the consumer and retail sector and later, Latin America.
Read More