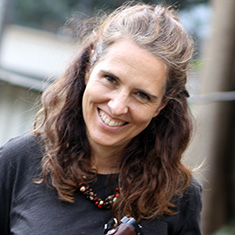 While raised throughout her youth in the French countryside, Gaëlle Le Pottier started her career early on as an itinerant experience-sampler, working first in the early 1990s with Somali refugees in Kenya and Somalia, deciding then that development "was not for her"—after witnessing firsthand the genesis and cause of what would become the "Do No Harm" approach—and eventually moving on to fall head over heels in love with post-civil-war Lebanon.
There, Gaelle become absorbed by a culture and country which would become her home for the following decade, teaching history of the Middle East in Beirut, completing an oral-history-based masters' thesis on the history of the pre-civil war student movement at the American University of Beirut and finally becoming a full-time researcher focused on Lebanese transnational cultural flows.
After joining the corporate banking world for a couple years, Gaelle decided it was time to return to "interesting work" (i.e., doing what she had earlier pledged "was not for her") delving back this time into governance-related development going from Iraq, to South Sudan, Ecuador, Democratic Republic of Congo, Yemen, and back to Kenya/Somalia.
Step by step, it became apparent that her natural leaning was mostly in areas least fun for most living souls (i.e. monitoring and evaluation, management, accountability, systems, compliance) while remaining happily engaged with projects of great technical interest (governance at large, sustainable tourism, and now, preventing violent extremism).
M.Phil, modern Middle East studies, University of Oxford
B.S., School of Foreign Service, Georgetown University
x
RELATED CONTENT:
John Lindsay leads DAI's Workforce Development and Youth practice, specializing in developing market-driven products and services that improve competitiveness for enterprises and employment opportunities for youth.
Read More