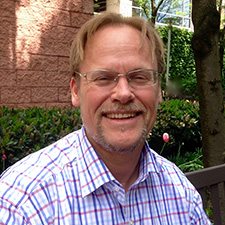 Eric Bergthold has almost spent as much time overseas as he has in the United States. He spent the first six years of his life in Nicaragua and Ecuador picking ripe mangos off the ground and chasing iguanas. When he moved to the United States with his family when he was 6, he struggled to fit in. He was that weird kid who spoke Spanglish and didn't know what a sidewalk was. He eventually adjusted but his experience living overseas embedded in him a profound love of travel and adventure and drove him towards a career in international development.
"I like doing development work because it forces me to think, to challenge my assumptions, step out of my comfort zone and deepens my understanding and appreciation of the human condition."
Eric proceeded to teach English in a rural village in Fukushima, Japan, serve in the first cohort of Peace Corps volunteers in newly independent Eritrea, travel to Iraq to support a donor-funded governance project, move his young family to Ukraine to be the Deputy Chief of Party on a U.S. Agency for International Development (USAID) Municipal Budget Reform Project, move again to Cambodia to run the country program for an international nongovernmental organization, and then back to the United States to join USAID as a Senior Democracy and Governance Specialist for East Asia.
"I've had incredibly diverse and rich life and work experience, but my passion is working in Asia and supporting the improvement of governance."
Eric joined DAI in 2016 as the Director of Governance for Asia. He oversees a portfolio of projects in Cambodia, Indonesia, Kyrgyzstan, and Sri Lanka.
M.A., applied anthropology, University of Maryland, College Park
B.A., international relations, University of California, Davis
x
RELATED CONTENT:
Jeremy Kanthor oversees DAI's technical sectors and business development for our work with the U.S. Agency for International Development (USAID), the State Department, and other U.S. Government clients.
Read More