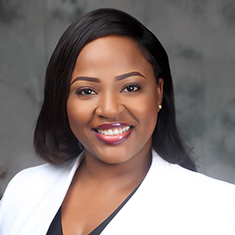 Enene Ejembi designs strategy and leads implementation of a communications, knowledge management, monitoring and evaluation portfolio. She provides leadership and participates as a member of the Nigeria leadership team coordinating cross-functional strategic projects that help the company evolve and deliver results. Her expertise is in strategic knowledge sharing, research, technical assistance delivery, corporate media outreach, and organizational learning. She also has subject matter expertise in governance and market systems development.
In the course of her 18-year career, she has worked in retail banking in the United Kingdom and Nigeria and prior to joining DAI, led the knowledge management team of a UKaid-funded project. She has trained at the Harvard Kennedy School of Government, completing courses including the Leading Economic Growth Executive Program.
B.A., English literature, University of Jos (magna cum laude)
M.Litt., English studies, University of Dundee
Certifications, Knowledge Management Institute, Washington, D.C.
x
RELATED CONTENT:
Carolina Benevides Lima was formerly an investment banker at Nomura in New York, where she covered the consumer and retail sector and later, Latin America.
Read More