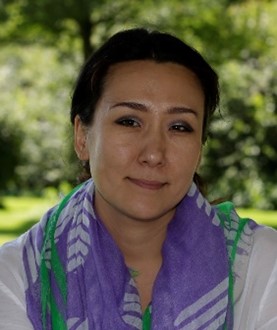 Eldana Djumalieva is an economist with 26 years of experience in the delivery of programs for multilateral aid agencies and development finance institutions (DFIs) to tackle development challenges in frontier and emerging markets. Recently, Eldana has focused on the conceptualization of delivery strategies for climate finance and low-carbon transition efforts. She has led the development of proposals to assist with the alignment of DFI financial flows with the Paris Agreement, including mainstreaming climate considerations in the decision-making of DFI clients to facilitate low-carbon transition in Asia, Africa, and Latin America, with the focus on forestry and agribusiness, nature-based solutions, land, and natural resource management. Eldana has also formed and led a social and environmental impact management practice in an international consultancy, delivering solutions to the private sector in the energy and natural resource sectors. This has afforded her a deep understanding of impact investment and environment, social, and governance issues. Eldana is skilled in project management of complex programs across diverse cultural backgrounds, having worked in more than 24 countries across Africa, Asia, and Europe.
Eldana leads the climate finance stream within DAI's Development Finance and Investment team. Her focus is to facilitate the mobilization of finance at scale, including private capital, to bridge the Sustainable Development Goals, and climate financing gaps.
Master's, international business, Sydney University
Master's Honours Component, University of Maastricht
B.Sc. Econ., Kyrgyz National University
x
RELATED CONTENT:
Since joining DAI in 2000, Colleen Green has served as a microfinance specialist providing short-term support to bank downscaling and other programs to benefit micro, small, and medium-sized enterprises.
Read More