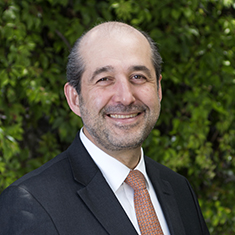 Eduardo González-Pier is an economist with more than 20 years of experience in the health and social security sectors. He has contributed to the development of health policy in Mexico, including major reforms, from varied high-level positions at the Ministry of Health and the Mexican Institute of Social Security. His work focuses on providing sound evidence and analysis to inform policymaking and promoting the development of mechanisms and tools to improve health system performance.
He is a nonresident fellow at the Center for Global Development, a partner of Blutitude and Innovasalud healthcare advisory, and heads the Clinical Foundation Médica Sur A.C. He was the Undersecretary for Integration and Development of the Health Sector for the Federal Ministry of Health in Mexico City from 2014 to 2016; the Executive President of the Mexican Health Foundation from 2013 to 2014; and the Director of Finance of the Mexican Institute of Social Security from 2009 to 2013. Among other distinctions, he sits on the Boards of the Fundación Mexicana para la Salud A.C., a think tank on health sector issues in Mexico, and Médica Sur S.A.B. de C.V., a private hospital complex in Mexico City.
Ph.D, economics, The University of Chicago
M.A., economics, The University of Chicago
B.S., engineering, economics, and mathematics, Washington and Lee University
x
RELATED CONTENT:
Dr. Nitish C. Debnath pioneered the One Health movement in Bangladesh in 2007 jointly with veterinarians, physicians and environmental scientists, and launched a new professional organization called One Health Bangladesh.
Read More