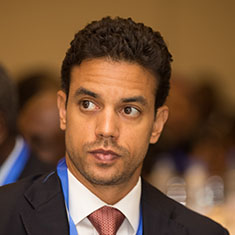 Dorival Bettencourt is a private sector development specialist with extensive policy and oil and gas industry experience. As Senior Oil and Gas Advisor for DAI's Sustainable Business Group, he undertakes activities related to local content policy development, stakeholder engagement, and local content implementation and compliance. He serves as the technical lead for DAI's engagements with the Oil and Gas Association of Tanzania (OGAT), managing technical inputs and serving as the primary point of contact for government engagement in Tanzania. He was also team leader for the Industrial Baseline Assessment that DAI's Sustainable Business Group completed for Woodside Petroleum in Senegal.
Dorival has significant experience in sub-Saharan Africa, including living or working in Mozambique, Kenya, Senegal, São Tomé and Principe, South Africa, and Tanzania. Previously, he served as Senior Policy Advisor on the Support Program for Economic and Enterprise Development in Mozambique, funded by the U.S. Agency for International Development and implemented by DAI. In this role, he analyzed policies effecting competitiveness in multiple sectors, with an emphasis on the oil and gas industry. Dorival also supported the development of oil and gas regulations and led capacity-building activities with government and private sector organizations for the program. He has facilitated public-private dialogue through the design and implementation of engagement platforms such as the Local Content Task Force and the Cabo Delgado Sustainable Development Forum. Dorival speaks English, Portuguese, Spanish, and French.
M.B.A., International Institute for Management Development, Switzerland
x
RELATED CONTENT:
As part of the Sustainable Business Group, Dipika Chawla leads the communications strategy, designs technical service offerings, performs market intelligence on extractive industries in developing countries, and conducts new business efforts.
Read More