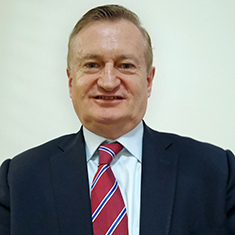 Donal Cotter is an expert in economic growth programming, competitiveness, and market-based systems with more than 20 years of experience in international development. He has held senior management positions in several large economic development, financial and economic inclusion, and trade integration projects.
Consistent themes on projects which he has managed include—competitiveness, improvements to the business, investment and trade enabling environments, international and regional trade facilitation, World Trade Organization accession, financial inclusion, institutional development, sustainable livelihood development, and management of grants under contract.
He has held senior management roles on six major donor-funded economic growth initiatives in interculturally sensitive, conflict, and post-conflict environments.
B.A., accounting and finance, Munster Institute of Technology, Ireland
Fellow of the Institute of Incorporated Public Accountants, Ireland
x
RELATED CONTENT:
Kirsten Pfeiffer leads the design and implementation of complex agriculture market systems and investment facilitation projects.
Read More