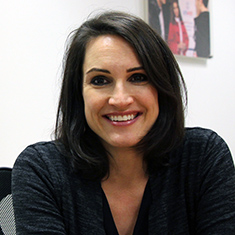 Deborah Greebon is an education and capacity building specialist with more than 15 years of experience over four continents. A former primary school teacher, Deborah has consulted for ministries of education, led evaluations of education-sector programming for international nongovernmental groups, and served in executive leadership roles of education-focused organizations and large donor-funded programs.
As Executive Director for Program Development with the World Refugee School, Deborah managed startup operations for an innovative consortium of companies using technology to improve learning outcomes for refugees worldwide. Prior to this, Deborah served as Executive Director for OneVillage Partners, a nonprofit with leadership, school improvement, and women's empowerment programs in rural West Africa.
With expertise in monitoring and evaluation (M&E) of education and training initiatives, Deborah led an external evaluation of CARE International's Child Friendly Schools program in Cambodia, reviewed education sector programming for Save the Children in Jordan, and managed M&E for the Africa Lead management training program. She also developed an M&E framework for the Ministry of Education in Punjab, Pakistan, and conducted an evaluation of bilingual primary schools in conjunction with Guatemala's Education Ministry.
Currently based in the Middle East, she recently completed her term as the Deputy Chief of Party for the U.S. Agency for International Development (USAID)-funded Jordan Competitiveness Program, where she oversaw technical assistance and capacity building to the Government of Jordan promoting economic development and reform. She currently works for DAI on new business and education opportunities in Jordan.
B.A., psychology, Wheaton College
Ed.M, international education policy, Harvard Graduate School of Education
M.P.A., administration and management, Syracuse University
x
RELATED CONTENT:
Zehra Zaidi is the Director for Education in DAI's Europe office and has designed and led programmes focused on education, innovation, governance, and social entrepreneurship.
Read More