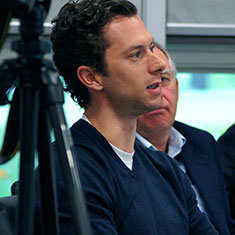 As the Director for New Business of the Asia portfolio, Dan Charette manages a seven-person team and oversees all business development functions for the Asia region including pipeline management and financial forecasting, capture management, resource allocation, and proposal execution. In his 12 years of international development experience, Dan has worked on new business acquisition, managed programs, and completed consulting assignments focused on value chain development, business environment reform, and food security.
His country experience spans Ethiopia, Kenya, Tanzania, Mozambique, Nigeria, Ghana, Malawi, Liberia, Somalia, Uganda, Nepal, East Timor, and Kosovo. Between 2013 and 2015, Dan served as the Economic Policy Manager on DAI's food security-focused Africa Lead program. And from 2012-2015, Dan was an adjunct professor at Columbia University's School of International and Public Affairs, teaching a course on enterprise development in emerging markets.
M.S., international relations, McCormack Graduate School of Policy Studies, University of Massachusetts
B.A., psychology, University of North Carolina
x
RELATED CONTENT:
Julie Browning oversees projects in Cambodia, Indonesia, Krgyzstan, and Sri Lanka. She has expertise in elections, local governance and political transitions, and civil society.
Read More